FPL Solar Amphitheater | Miami, Florida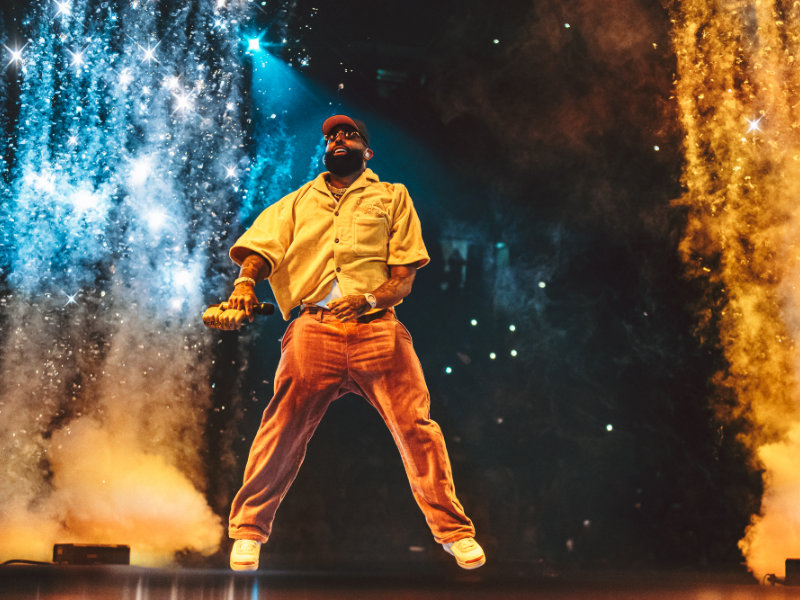 Yoooooo!!!!! peep this!!! Not only do you get to experience one of the hottest Latin trapero stars of our time, but you're also gonna witness him performing fresh-out-the-box hits from his recently released "3men2 Kbrn" album. Yup, that's right, the dude, Eladio Carrion is on tour for the second leg of his already amazing "Sauce Tour." The first part of the trek was drippin' with success, and you can expect him to smash this one straight outta the park. Plus, we've got tickets to the last event in the series of shows!!! So without waiting a single second, you've gotta grab your passes for the FPL Solar Amphitheater on Saturday, November 11, 2023. Grabbing 'em is super simple; get yourself to the check-out process in a few steps by clicking the "GET TICKETS" button, which is located up above. Y'all can't afford to miss this!!!
Grammy-nominated Eladio Carrion is bringing the fire to concertgoers this fall with the second stage of the "Sauce Tour," which will see him hit up the legendary Aragon Ball in Chi-town on October 7th and thrill major cities until wrapping right here at the FPL Solar Amp on November 11 in Miami. Being the titan of the game, he has already made major moves by creating his own festival, the "Sauce Boyz Fest," earlier this year, featuring hitmakers Bad Bunny, Myke Towers, and so many others, even Lil Wayne made a guest appearance.
Born in Kansas City, he moved around a lot coming from a military family. In his younger years, he took to competitive sports, mainly swimming, in which he represented his native Puerto Rico twice. Now at a crossroads, he decided to switch gears and pursue another path as a social media influencer.
In 2012, he started postin' up comedy videos on social media, helping to build a following of fans. Understanding the power of what he had done, he decided to give music a chance by releasing two songs, "2x2" as well as "No Quiero Más Amigos Nuevos." The songs gave him credibility in the music industry. Then he hit them with a left hook by releasing club bangers, "Súbelo" and also "Si Te Vas, Vete."
Now with some serious weight behind him, he started creating even more music in the form of his studio albums in 2020, called "Sauce Boyz," and then, of course, who can forget the iconic "Sauce Boyz Care Package" also in the same year. The 2021 album "Monarca" was also brought to the publics attention but it wasn't until "Sauce Boyz 2" also in the same year that he started seeing chart success climbing the Billboard 200 to 92.
Now that his latest chart success, "3men2 Kbrn" has reached number 16 on the Billboard 200, he is primed and ready to take you on an incredible journey of epic proportions. Y'all gotta get yourself to the show before you wreck yourself, so without hesitatin', grab your tix right here and now before it is too late.